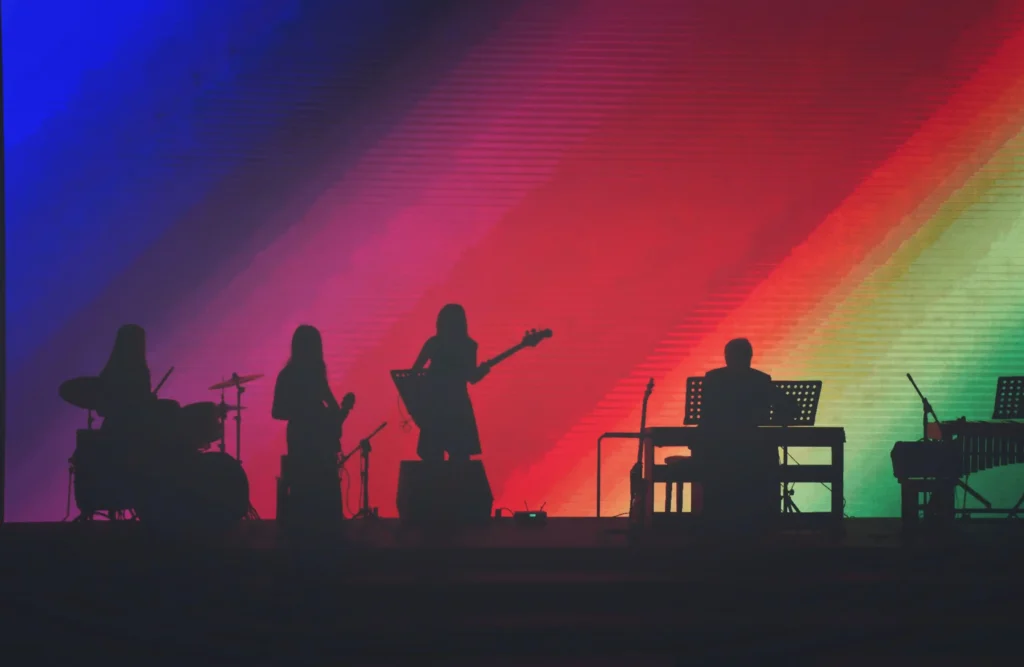 Learn How To Become A Musician
In this article, I will show you a roadmap to becoming a musician in 10 simple and actionable steps. If this is for you, your child, or a family member, I do recommend they follow this exact process.
Musicians are people who play one or more musical instruments. They can be soloists or part of a group. Music is their passion and they devote a lot of time to perfecting their craft. Most musicians are self-taught, while others go to music schools.
The music industry is very competitive. Only the best musicians make a living playing music. Some statistics collected from surveying many musicians in the United States alone:
According to Zippia,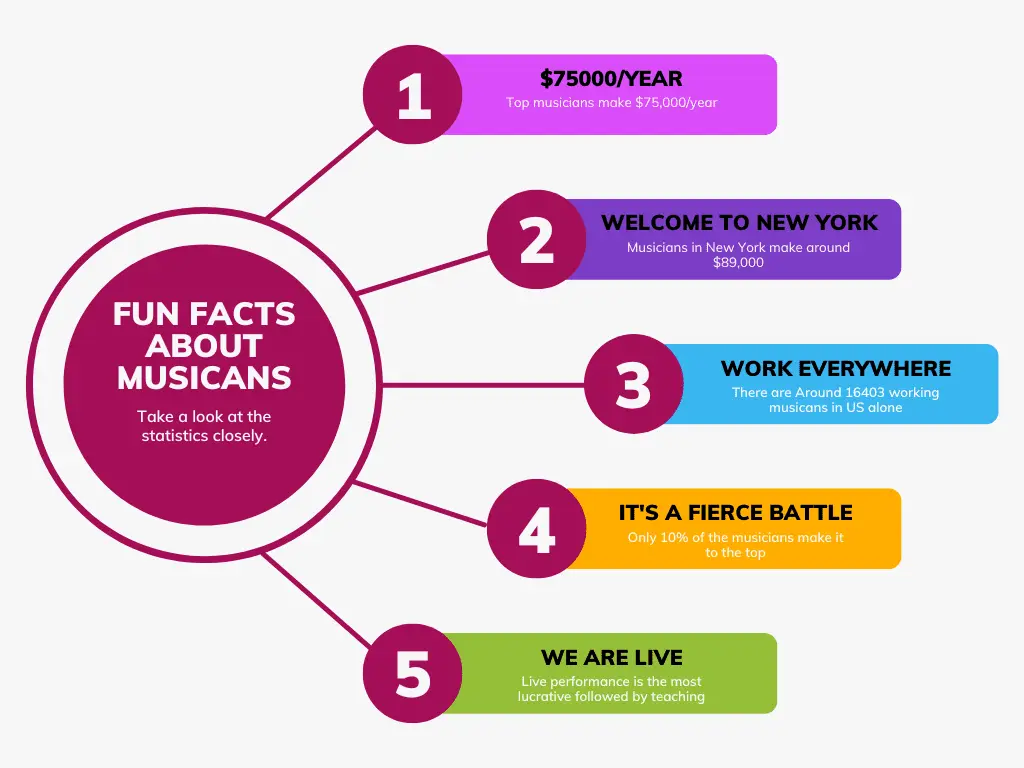 There are around 16403 working musicians in the United States.
The median income for a musician in New York is $89,000
Most available work in music is in New York and Los Angeles
Finally, if you haven't started yet, with these steps you could start your music journey right now. Let's get your dream rolling.
How to become a Musician Fast And Get The Opportunities available.
There are many different types of musicians and music opportunities available today. Orchestras, Bands, Live Concerts, Live Stage Musicals, Movie Scores, the list goes on and on.
There are also different types of music, such as classical music, jazz, and rock. So it is up to you to decide which instrument or which genre of music appeals the most to you.
The Roadmap To Becoming A musician:
I know, by now you must be wondering – "I know all of the above but where and how to become what I want to be ?".
Don't worry, I will lay down the 10 simple steps you can take to become a fine musician. Even if you have never touched an instrument in your life.
Just follow these simple steps and I guarantee you a kickstart in your music career.
Let's get your dream rolling.
Step 1: Find your Music
Music is all around us and we listen to music regularly. Music history shows us that humans have a natural affinity towards music and sound.
Naturally, the first step to becoming a musician is finding your passion. What type of music do you enjoy listening to? What instrument would you enjoy playing? What type of musician would you like to be?
If you are confused about different kinds of music genres, my article on music genres and the best genre to be in, is coming soon. Join my mailing list and I will share the link as soon as it comes out.
Step 2: Choose your instrument. Start your Free art Career journey.
Now that you know what type of music you want to play, it is time to choose your instrument.
Do not follow any famous artist and learn an instrument because they play the same instrument. Your skill, sensibilities, and taste might ultimately differ from others.
We all have our own individual identities and that should come across in your music career.
If you are confused about different kinds of instruments, instruments of the world will helpful for you. It is a simple introduction to all the major instruments of the world with pictures and video samples. This page is updated weekly with new instruments.
It will help you go through all the instruments, their styles, and their sounds. Try and see which instrument appeals to you the most. The sound of an instrument that connects with you the most should be your starting point.
For example, if you are passionate about playing the piano, then the piano is the way to go. But if you want to be a rock star, if that's your vibe then learning to play the electric guitar may be more your style.
Whatever you choose, one thing for sure is that instruments take patience, dedication, and time to learn.
Step 3: Buy an Instrument.
The quality of instruments available in the market today is immense. From the cheapest to collector's editions, you get them all.
For a beginner, I would not suggest spending too much money on a high-quality instrument. You can buy a beginner version of the same.
The goal should be to be able to practice and reach a point where playing smoothly becomes second nature, a very important part of this career choice.
Also, many online stores offer instruments on a returnable basis. This is a perfect opportunity to experiment and try out a musical instrument. If you don't like it return it and try something else. This feature is extremely helpful.
Step 4: Learn to play your Favourite instrument.
Now that you have chosen and bought your instrument, it is time to learn how to play it. You can do so by taking online lessons from a music teacher, or by teaching yourself. There are countless amount of courses and videos on every instrument out there.
If you are somebody like me who visually learns by watching videos then platforms like YouTube, Udemy, and Skillshare are the best places to learn many free courses.
If you need a teacher to track your progress and career options then online lessons or a Music Institute would be the best place to go.
Learning an instrument takes time and dedication. It is directly proportionate to the number of hours you put in. Practicing long hours should not be the goal. Practicing smartly and with focus should be your goal for a successful career.
The more you practice the better you will be. So, upgrade your skills by practicing daily. One tip that has always helped me is playing along with songs. This way you get introduced to playing with different kinds of genres, beats, and time signatures.
Keep a weekly track of your progress through an app or personal notes. Check-in weekly to see where you stand compared to the previous week.
These weekly assessments should include –
Basic and Advanced Finger Exercises.
Fluid and Smooth Playing.
Developing Chord Progressions.
Enhancing Your Rhythmic Sense, and Timing.
Tip – Write down your strengths and weaknesses and work on those step by step. Tweak your upcoming practice sessions accordingly.
Step 5: Learn Music Theory.
Apart from learning an instrument, you could also learn music theory. This could be learned separately as a subject or simultaneously while learning your instrument.
Music education comes into use when playing in an orchestra, a choir, or movie scores.
In today's day and age where remote working is a common practice, music theory helps you communicate with other musicians remotely if they also know how to read and write music.
You can learn music education online, through a music teacher or a music institute. The steps are exactly the same as learning an instrument.
Also, some of the advantages of learning how to read and write music can not be ignored. It makes you a complete musician. It makes you a professional musician. Fellow artists start taking you seriously as they know your knowledge in your field is that of an expert.
An artist who has been to a music school responds quickly to the demands of this ever-changing industry.
Step 6: Performing Locally With Other musicians.
Once you learn the basics of your instrument and music theory, the next step to becoming a better musician is to perform.
Whether you play in a local band or perform solo at a birthday party, playing for an audience will help you hone your skills and improve your confidence.
Stage fright, muscle pain, and body fatigue are common issues with most musicians. The more you practice and perform, the less these become. The skills gained in understanding the craft while playing in a group are priceless.
Also, playing locally connected to local promoters, event planners, and band managers.
Step 7: Playing music for passion in a College Band or a City Orchestra.
At this stage, you are still an amateur musician. Don't think about earning money through your playing right now. Your only goal should be to grab and play as many opportunities as possible. Networking with as many people as possible is the key.
Joining a college-level band or a church choir band is a great way to get experience playing music with other people. It is also a great way to make friends who share your passion.
The benefits of playing with others are huge. These include:
A great way to make friends who share your passion.
You get to play with other people reinforcing your confidence and your self-worth.
You get to improve and upgrade your skills. Constant observation is very important.
Pick up tips and tricks from others who may have a higher knowledge of the field.
You get to perform for an audience. Audience appreciation is one of the most beautiful and overwhelming feelings. It boosts your morale and makes you want to practice more and become a musician who excels is good with his skills.
In a band, you follow the lead of other players and learn to play in time with them. This musical group performance can be a great challenge but it helps you to improve your skills gained understanding.
Well, if you have reached till here, you've completed almost 60% of your journey. I hope you're still motivated because the next steps are the most exciting ones.
Step 8: It's Time To Become a Professional Musician.
Being a musician is not just about playing for yourself or your fans. Professional musicians get paid to play music for other people as well. People call professional musicians for various requirements. Thousands of jobs are being posted online every day for many musicians and if you are someone who has great experience, you could easily grab those jobs.
Some of them are –
Play with other musicians globally.
Be a part of their Band or Group.
Be a part of a Symphony Orchestra.
The opportunities are limitless.
Most professional musicians are experts in their instruments. They often have a music degree from a college or university. But this is not mandatory to succeed.
Ultimately your talent decides your future in the music industry.
Step 9: Record your playing.
As music students or professional musicians, spending time in recording studios is natural. Start spending time in recording studios and recording your own music. This can be solos or improvisation on other songs. Can be a song for you or for somebody else. Most of the famous musicians that we hear today spend the majority of their time in recording studios. They upgrade their skills all the time.
The more you record, the better your ears become. Knowing the basics of sound engineering helps a lot. I will be covering all these topics in future articles.
You could also collaborate with music composers and music producers and play their music. Being able to do this is worth all the planning that you have put in until now.
Step 10: Time to compose your own music
All those songs that you have ever loved started with a basic idea. This is your time to shine and come up with your own ideas.
Once you reach us proficiency stage where newer musical ideas come to you naturally, composing your own music is the next step.
This is a very exciting moment for any musician. This is where you get to create something new from nothing. Just your ideas, your thoughts, and your music.
Try to be unique in your approach and ideas. Try not to emulate other songs and artists. Make songs and music which is not only loved by everybody but also commercially sellable.
Also, be prepared for criticism. This is a part of the journey and we all have faced it. The greatest of musicians have been criticized over their career spans for their music choices.
Take criticism constructively and become a better musician.
Most importantly believe in your own music career and style. This will define your musical personality and identity.
We have finally reached the stage where you are ready to venture into the wide and exciting depths of the music industry.
From here on the music industry branches out into multiple career verticals.
The next steps in your musical journey are –
Learn more about Music Business and Career.
Become a Music Producer and Produce Your own Music.
Record Music for Other Artists.
Mixing and Mastering Your Songs.
Releasing Your Completed Music.
Promoting Your Songs on Social Media Platforms.
Creating and Nurturing a Fan Base.
Be an Inspiration to other budding artists by teaching all that you have learned.
I will be covering all these steps in detail in my upcoming articles.
I am also currently writing tips and tricks, especially for classical musicians. So if you already are a classical musician or getting to know classical music, this guide will be for you.
I genuinely hope that this article has given you clarity and a roadmap to begin your journey to becoming an established musician.
Would love to hear your thoughts and if I could help you with some other topics related to music. Do let me know via my email and I will surely be in touch.
References –
Photo by Teddy Yang: https://www.pexels.com/photo/people-inside-concert-hall-2263436/
Photo by David Yu: https://www.pexels.com/photo/band-members-playing-on-stage-1749822/
From the bustling city of Mumbai, I am a professional Composer, Producer, and Educator with a wealth of expertise in the industry. With over 15 years of experience and a diverse portfolio including composing for movies, television, web series, songwriting, music production, and creating meditation music. I also love to teach music and musicality to students worldwide. When I'm not in the studio, you can find me doing music consultancy for independent projects and exploring the intersection of Space & Spirituality.